FREEHOLD DEVELOPMENT • 24-HOUR SECURITY • 5-MIN DRIVE TO SUTERA MALL & AEON BUKIT INDAH • MATURED RESIDENTIAL COMMITTEE • ACCESSIBLE VIA MAJOR HIGHWAYS & ONLY 15-MIN DRIVE TO JB CITY CENTRE, SENAI AIRPORT & TUAS CHECKPOINT
A home becomes more than a mere shelter when surrounded by good neighbours within a lively community. That's why Tanah Sutera Development Sdn Bhd (Sutera) strives to foster a close-knit community within its townships.
Established in 1990, Sutera is a home-grown developer based in Johor. It aspires to become a premier developer that facilitates the best neighbourhoods and the first developer to achieve a zero-waste township in the southern state.
Modelling these concepts are its two main townships strategically located between Johor Bahru city centre and Iskandar Puteri (previously known as Nusajaya), both key areas under the Iskandar Malaysia development plan. Named Taman Sutera and Taman Sutera Utama, they form part of 1,200 acres owned by the developer in Skudai.
The developer's commitment in building a vibrant community within a sustainable environment in these townships has earned it EdgeProp Malaysia's Responsible Developer: Building Sustainable Development Award 2020, at EdgeProp Malaysia's Best Managed and Sustainable Property Awards 2020.
"Sustainability is about taking care of the people, the environment and the future," says General Manager Wee Boon Leong, who is responsible in steering the company towards its goal on sustainable developments.
"We hope the award would inspire our community to be more passionate about caring for one another and the environment. We also hope it would encourage other developers to take into account sustainability and long-term planning."
Attracting like-minded people
There are numerous features around Taman Sutera and Taman Sutera Utama to encourage communication and bonding.
Although each precinct is gated, Sutera was among the first developers in Johor to introduce gateless houses 13 years ago.
"We want to foster the kampung spirit where everyone knows everyone and children can roam freely and safely.
"We want to be different  — not just to build and sell houses but to create a wholesome place for people to grow their families and live a life. Over the years, it has become our DNA," Wee says.
To attract like-minded people to live in their townships, Sutera has introduced various community and environmental initiatives.
"Our target is end-users, not investors. With more own-stay buyers, we can create a strong community that helps sustain demand and property values," offers Wee, adding that residents here are mainly businessmen, professionals and Malaysians working in Singapore.
According to EdgeProp.my data, the average price psf of Taman Sutera landed houses increased from RM157 in 2012 to RM289 in 2019, while landed homes at Taman Sutera Utama grew from RM312 to RM371psf over the same period.
Launched in 1995, Taman Sutera covers 324 acres and currently houses 1,485 landed units, while the development of the 879-acre Taman Sutera Utama began in 2000 and to date, has about 2,647 units of cluster houses, semidees, terraced houses, condominiums and flats. Combined, there is still another 60% of land yet to be developed.
Notably The Seed condominium at Taman Sutera Utama boasts a rental yield of 4.33% as at mid-June 2020. Completed in 2015, The Seed is a 47-acre low-density project comprising garden villas, duplex suites and condominium units. It is Sutera's first stratified project in the township.
Believe in people
Believing that intrinsic values are important in maintaining sustainability, the developer encourages moral teaching institutions in the townships, such as Fo Guang Shan Hsing Ma Si, A&O Centre of Excellence and Sunlife Education.
"We believe people would do the right thing in the right environment, such as keeping a place clean if it is originally clean," he points out.
To foster a more inclusive community, Sutera has also brought in special-need establishments such as Kiwanis CareHeart Centre, Calvary Victory Centre, vocational training school Alpha Skills Academy as well as orphanages, elderly care centres and cancer associations.
To counter break-ins, the developer helped set up home owners' associations (HOAs) for collective strength to ensure better security such as hiring guards.
"It started with 150 households in 2003. Today it has the support from around 1,000 households and is functioning well. We are happy to see good payment habits among members to operate the HOAs over the years," he says.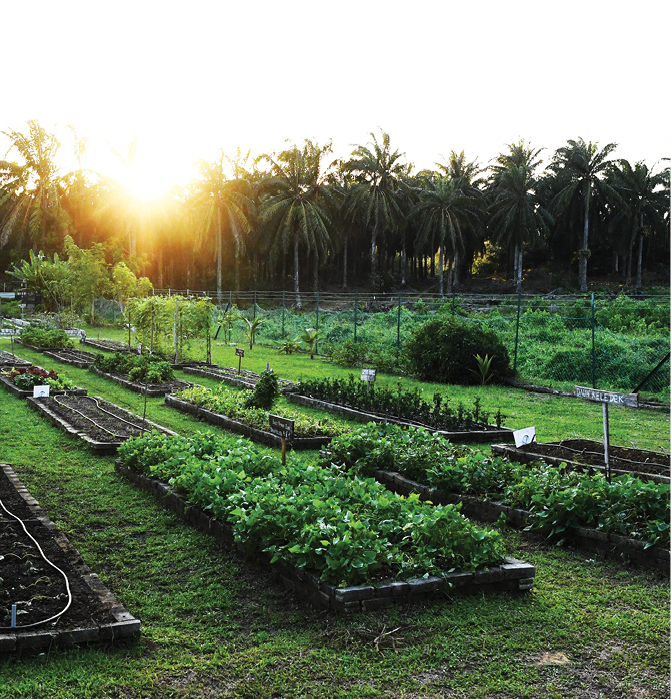 The developer also assists the HOAs in organizing various activities such as recycling projects, environment conservation exhibitions and fun runs, as well as co-organise celebrations like New Year countdowns and Chinese New Year celebrations. "Sutera distributes mandarin oranges to residents every year during CNY. Our staff eagerly volunteers to do it. This gives them a chance for personal contact with the residents," Wee says.
To inculcate the reading habit, the developer has initiated a full-fledged library in the neighbourhood mall. Called My Library @ Sutera Mall, the 30,000 sqft library offers more than 60,000 books and reading materials. It is often packed with students especially during pre-exam periods.
Sutera Mall in Taman Sutera Utama has been open since August 2008. The mall received the Editor's Choice Award 2019 — Exemplary Retail Mall and was a Silver winner in the 10-years-and-above Retail Category at EdgeProp Malaysia's Best Managed Property Awards 2019.
Towards zero waste
Under the Sutera Good Earth project launched in 2014,the first food waste composting centre using machines was established at Sutera Mall. Later on, a natural composting facility was set up at an outdoor site.
Support from mall tenants gradually grew and as of January 2020, the Sutera Good Earth Composting Facility has composted 660,267 kg of food waste. Fertiliser made from the waste is used at the community farm called the Sutera Good Earth Farm next to the composting site just 10 minutes' drive from the mall.
The company is also actively educating residents to collect their kitchen waste for the project. "This way, we can reduce outgoing waste from the township and reduce waste at landfills," Wee explains.
Recycling is also aggressively promoted. In 2019, the total amount of recycled organic and inorganic waste reached 544,950 kg. "At the mall, we try to use recycled materials for festive decorations. This has saved us 40% to 50% in decoration cost," he adds.
Stepping up the green initiative is the Kuru Kuru ("re-circulate" in Japanese) Shop in Sutera Mall, where pre-loved items are donated for anyone to bring back for use.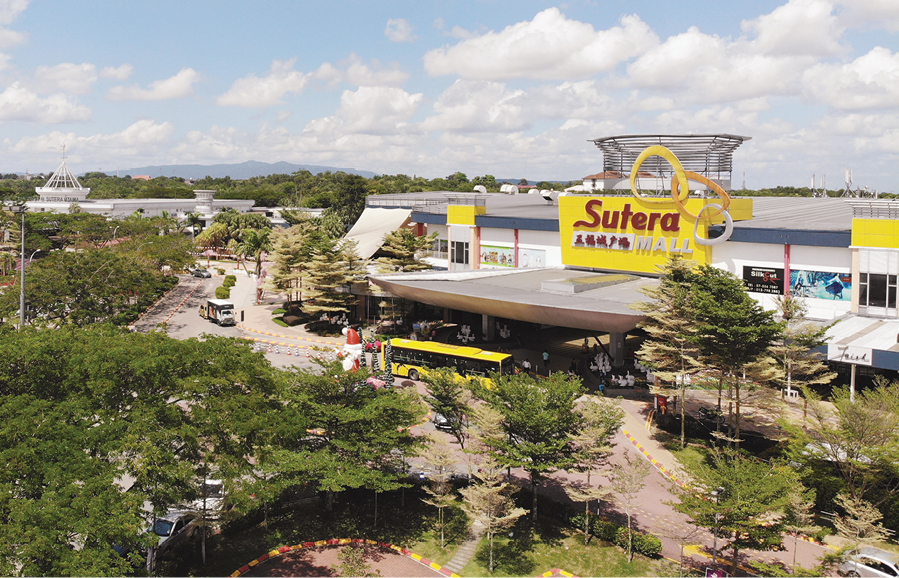 The two townships are equipped with solar panels and rainwater harvesting tanks. According to Sutera, energy generated by solar power at The Seed from 2017 to 2019 accounted for 16.18% of total energy consumption while rainwater harvesting tanks at Sutera Mall and The Seed collected 5,723 cubic metres and 66 cubic metres of rainwater respectively in 2019 alone.
Future plans include establishing the Sutera Eco Park, a place for children to be acquainted with plants, animals and nature preservation.
The developer will also be spending RM10 million to install another 10,526 solar panels at Sutera Mall by end-2020 to cover 21,000 sq m. They are expected to generate 400,000 kWh of electricity per month, saving RM1.7 million or 30% reduction in power bills annually.
Taking a long-term view
The road to sustainability is often fraught with difficulties and the resources poured into it may see no direct returns. "There were times our efforts were doubted, but people eventually saw the value in creating sustainable communities. Some of our initiatives may not be profitable, but we still operate them as they add value to the townships," Wee stresses.
Sustainable developments can only be successful when the developer holds on to the vision as it requires long-term efforts to reap long-term benefits, he notes.
The company has shown a strong financial performance even in tough market conditions. Sales in the two townships in 2019 were three times higher than the previous year. "Profit comes when people talk about the good work being done at the townships," Wee concludes.
Source: edgeprop. my
 This video talks about Tanah Sutera's development as a township. It is filled with residential areas, a commercial hub, a mall with a private library in it, an education hub and many more. It is a place of convenience for the residents living in it. The township is located strategically as it is accessible via major highways